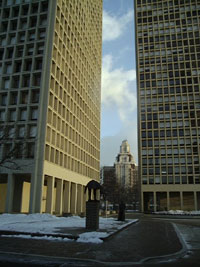 Society Hill Towers
Philadelphia, PA 1992
Parking Garage
Horizontal, vertical and
overhead repairs
Products Used: IPATop RM and Octocrete
Welcome to IPA Systems, Inc.
IPA a privately owned manufacturing company which produces specialty products for new construction and the repair of concrete and masonry structures. The company was one of the first in the country to focus on a systems approach to infrastructure rehabilitation, and develops specialized products for many of the most difficult construction or repair needs nationwide. With over 75 years of experience, and continuing product development, IPA Systems offers an extensive product line for general construction, concrete and masonry restoration.
IPA Systems, Inc. is able to offer unique solutions for difficult conditions. We pride ourselves on our ability to provide quality products and personalized customer service. We strive to meet the need of every client, no matter how challenging the job or repair.
Examples of our products include materials for: concrete waterproofing, stucco, waterproofing stucco, shotcrete, epoxies, grouts, bonding agents, coatings, patching mortars, waterstops, surface conditioning, and more.