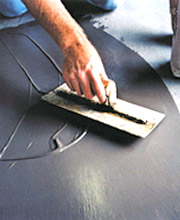 Repair oncrete slabs with OCTOCRETE polymer modified mortar
OCTOCRETE
---
Dry Polymer Modified Repair Mortar
DESCRIPTION: OCTOCRETE is a single component, ready to use with water, high strength polymer modified, fast setting cementitious mortar for concrete and masonry repair.
USES: OCTOCRETE is ideal for the horizontal, vertical and overhead repair of concrete and masonry. It can be shaved for architectural applications . Other applications include: interior / exterior structural concrete repairs, ramps, parking decks, industrial floors, above and below grade applications.

ADVANTAGES:
Made in the America
Excellent non-sag properties designed for deeper lifts per application
Traffic bearing 4 hours
Two set time formulas available: 12-15 Min. and 30 Minute set
Excellent freeze-thaw resistance
Just add water
Dries concrete gray (White by special order)
PACKAGING AND YIELD: 50 lb (22.7 kg) multi-wall bag, 56 Bags/pallet.
Yield is 0.5 cubic feet (0.01 cubic meter)
SHELF LIFE: One year in unopened container. Store dry at 40°-95°F (4°-35°C). Condition material to 65°-75°F before using.
LIMITATIONS: Minimum material, surface and ambient temperature must be 45°F (7°C) and rising. Minimum application: 1/8 Inch- Maximum lift: 1.5 inches, Do not feather edge. Do not apply to a frozen surface or allow material to freeze. Do not use solvent based curing compounds
CAUTION – FOR INDUSTRIAL USE ONLY:
Freshly mixed cement, mortar, grout, or concrete may cause minor skin irritation. Avoid direct contact where possible and wash exposed skin area promptly with water. If any of the cementitious material gets into the eyes, rinse immediately and repeatedly with water. If irritation persists, obtain medical assistance. Consult MSDS and package label for additional safety and use information.
Downloads

For more
information please
call IPA Systems, Inc.
at 800.523.3834 or
215.425.6607
or email us at:
info@ipasystems.com