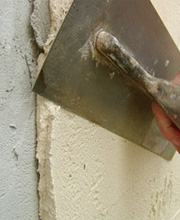 Quaker Stucco trowels and textures to a beautiful finish coat.
QUAKER STUCCO
---
Economical, crack-resistant plaster and finish coat

DESCRIPTION: Quaker Stucco is a factory precision blend of Portland cement (ASTM C150) silica sand, hydrated lime (ASTM C206), oxide pigments (ASTM D50) and additives for shrinkage control and color uniformity. Quaker Stucco is a high quality finish coat stucco that has 70 years of manufacturing experience behind its production. IPA Systems, Inc. has produced millions of square feet of finish coat stucco and has the experience and knowledge to complete your project.

USES: Economical alternative to other finishes or facades such as siding, brick, and stone
All natural and low maintenance - Green Building Material
Commercial construction
Replaces stone, brick and siding
Rehabilitation of existing structures
May be finished in a variety of textures
PACKAGING AND YIELD: Quaker Stucco is packaged in 65 lb bags. Bag yields approximately 6 to 8 sq. yards per bag depending on thickness and finish. Yield in service may vary depending on the amount of water utilized during pneumatic application.

SHELF LIFE: One year in original unopened packaging. Requires dry conditions and storage.

COLORS: Refer to Quaker Stucco color chart for details.

LIMITATIONS: Quaker Stucco should be applied at a temperature of 40 degrees F and rising. Finish should not be exposed to rain or other inclement weather for a minimum of 72 hours or longer if temperatures are falling below 50 degrees.

CAUTION – FOR INDUSTRIAL USE ONLY:
Wet cement, especially as an ingredient of a plastic mixture, can dry the skin and cause alkali burns. Cement dust can irritate the eyes and respiratory system. Cement dust can cause inflammation of the lining tissue of the nose and inflammation of the cornea. Hypersensitive individuals may develop an allergic dermatitis. Consult MSDS and package label for additional safety and use information.
Downloads

For more
information please
call IPA Systems, Inc.
at 800.523.3834 or
215.425.6607
or email us at:
info@ipasystems.com